A recently awarded student-entrepreneur is hosted by IMRCP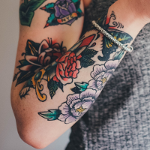 The laboratory is pleased to welcome David Maleville, a student-entrepreneur who has just won an award for his project Invisiblink, as "Coup de Coeur Innovation" in the Concours Régional des Etudiants Créateurs d'Entreprise.
Invisiblink is a new tatoo ink, based on biopolymers which, when injected into the skin like an usual tatoo, can become invisible thanks to a cream spread on the tatoo. Then, it can become visible again, by spreading another cream on the tatoo. And that's possible at envy and infinity!