Alexandra ter Halle is the guest for the next meeting "Femmes en Sciences"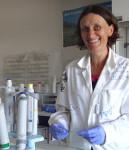 Tuesday 11th of April at 6:30pm - café du Quai des Savoirs
After the annual symposium "Femmes & Sciences" held in Toulouse in 2015, CNRS Midi-Pyrénées and the "Femmes & Sciences Toulouse" association initiated a serie of debates titled "Femmes en Sciences", and dedicated to scientist women's experience in several topics. Indeed, they are testimonies of these scientist women, illustrating their professionnal journey, their passion and their daily life as a researcher.
Alexandra ter Halle will be honored during the next meeting: she will talk about her researches, especially those lead in the "7th continent" project, for which she is the scientific manager.
To read more about :