Characterization of liquid crystals
©David Villa ScienceImage CNRS

Atomic Force Microscopy
©David Villa ScienceImage CNRS

Analysis by electrophoresis
©David Villa ScienceImage CNRS

Surface tension measurement
©David Villa ScienceImage CNRS

Photochemistry
©David Villa ScienceImage CNRS

Biological samples
©David Villa ScienceImage CNRS
The IMRCP laboratory is dedicated to studying the chemistry and physical chemistry of soft matter and self-assembly systems. These materials are based on biological molecules or synthetic compounds (such as surfactants and polymers) and they have an incredibly large range of industrial and technological applications. Our research activity is divided in three axes.
News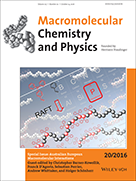 Simon Harrisson from the P3R team was involved in the research work recently published as...

Monday 28th of November - 2pm - Maroni room / MHT
She will talk about In situ formation of PEG-b...