OMSs and "green" materials
Self-assembled materials from renewable resources, self-assembled systems for the implementation of recyclable materials.
Formulation of materials and environment: study of pollution by plastic waste
We develop biodegradable microporous organogels, consisting of vegetable oils gelled by self-assembly of bio-sourced organogelators. The porosity is introduced in the materials by water-soluble porogens. These microporous materials are optimized as artificial matrix for cell culture or as adsorbents to collect hydrophobic pollutants. These organogels can also be used as vehicles to transport hydrophobic drugs.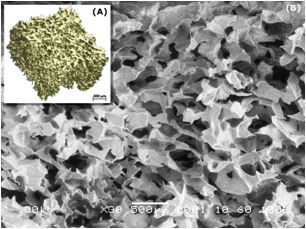 RX Microtomograpy (A) and SEM (B) of a microporous organogel
The development of thermoplastic composites (recyclable materials) in aeronautic revealed numerous difficulties of implementation, that we solved through the use of OMSs.
For example, sizing (compatible coating of carbon fibers), was solved by the formulation of stable aqueous dispersions of oligomers, and structural bonding through the formulation of OMSs for a chemical activation of the composites surface. These projects were developed in partnership with Airbus Industries and the IRT Saint Exupéry of Toulouse.



SEM of carbon fiber composites materials, before (A) and after (B) thermoplastic sizing
Today, plastic pollution has been recognized by the scientific community as a major environmental problem. We are developing fundamental research to better understand the mechanisms of transportation and fragmentation of microscopic plastic particles together with their interaction with the natural marine ecosystem (development of the biofilm).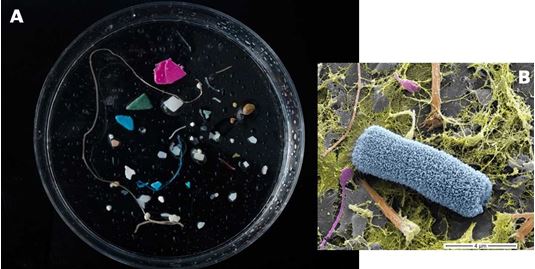 Sample of microplastics recovered in the ocean (A) and SEM of a biofilm (B)
This approach is based on a multidisciplinary cooperation (chemistry, biological and physical oceanography, marine ecology ...). The impact of formulation additives on these mechanisms is particularly studied. This project is undertaken in close collaboration with an NGO (Expedition 7th Continent).
Once these mechanisms elucidated, we will work to improve the degradation of plastics in the environment through new adapted formulations based on OMSs.
>> Development of an extraction method based on new porous organogel materials coupled with liquid chromatography–mass spectrometry for the rapid quantification of bisphenol A in urine
J. Chromatogr. A, 2015, 1414, 1-9
ter Halle A. ; Claparols C. ; Garrigues J.C. ; Franceschi-Messant S. ; Perez E.
>> Evaluation of organogel nanoparticles as drug delivery system for lipophilic compounds
AAPS Pharm SciTech, 2017, 18 (4), 1261-1269
Martin B. ; Brouillet F. ; Franceschi S. ; Perez E.
>> Formulation optimization for thermoplastic sizing polyetherimide dispersion by quantitative structure–property relationship: experiments and artificial neural networks
J. Mater. Sci., 2014, 50, 420-426
Rodrigues M. ; Franceschi S. ; Perez E. ; Garrigues J.C.
>> To what extent are microplastics from the open ocean weathered?
Environmental Pollution, 2017, 227, 167-174
ter Halle A. ; Ladirat L. ; Martignac M. ; Mingotaud A. F. ; Boyron O. ; Perez E