Professor Punit Parmananda is staying in our laboratory from the 11th of June until 10th of July.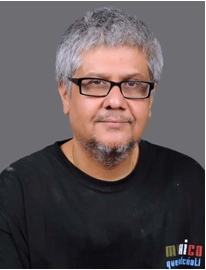 After a pHD thesis at the Ohio University in 1993, he obtained an Alexander Von Humbold Fellowship in the group of Gerhard Ertl (Nobel prize in chemistry in 2007).
He then got a position in CONACyt (Cuernavaca) in Mexico. He is since 2009, Professor at the Indian Institute of Technology Bombay.
His research activities entail non-linear dynamics in different domains: Constructive role of noise in nonlinear chemical and physical systems, control of chaotic oscillations and synchronization of active particles.